Amanda Caswell

Amanda Caswell, as played by Karen Morrow
Vital statistics
Gender:
Female
Occupation/
Career:
Socialite/widow of wealthy businessman
Character
description:
wealthy widow who meets Buddy, Harry's dad, while going through a court case where she was the defendant; courts and marries Buddy soon thereafter
Appearances/Series information
Appeared on:
Night Court
Episode(s)
appeared in:
"For Love or Money" (Season 7)
Played by:
Karen Morrow
Amanda Caswell appears in the episode of Night Court titled "For Love or Money" in Season 7. The part of Amanda is played by stage/TV actress Karen Morrow.
About Amanda and Buddy's meeting/wedding
Edit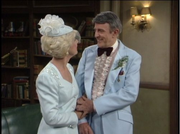 In the Season 7 episode "For Love and Money" Buddy Ryan, Harry's dad, begin starts dating Amanda, who's a wealthy millionaire's widow, after she is brought into Harry's courtroom after her limousene hit a chestnut stand, as she was rushing to try to make a charity event. After Anita agrees to pay the chestnut stand owner, a Mr. Poplinsky (Bill Capizzi), the amount of the damages to his truck, which was $5,000, she and Buddy, who just got a new job at a restaurant nearby, happen to meet and hit it off.
Harry is happy for Buddy, but when he hears that the two, after a week or so of going out together, are getting engaged, he wonders if Amanda knows everything about his father's background, with him having been in a mental asylum.
Just before the nuptials, which are to take place in the courtroom, Harry and Christine inform Anita of his past. but she doesn't mind, as she describes her late husband as a ruthless business mogul and as she described "very rich, very powerful, and the coldest man you'd ever want to meet", and she's "had more fun with Buddy than she's had in years", and that she didn't want to ask him about his past, for fear that it would spoil the fun that they had been having together", is she is in love with him as they go on with the wedding.